Tuong singing (Classical Opera)

Tuong singing is one kind of Vietnamese tragicomedy and comic opera with gestures or costume. Serving an educational purpose, it is a combination of songs, dances and dramatic actions, associating with the interpretation as well as the stylization of gestures.
How can tuong singing be identified among other Vietnamese traditional music?
Tuong can be classified into tuong chinh - a more academic style including various types of performance and tuong do - a more comic style criticizing the corrupt officialdom.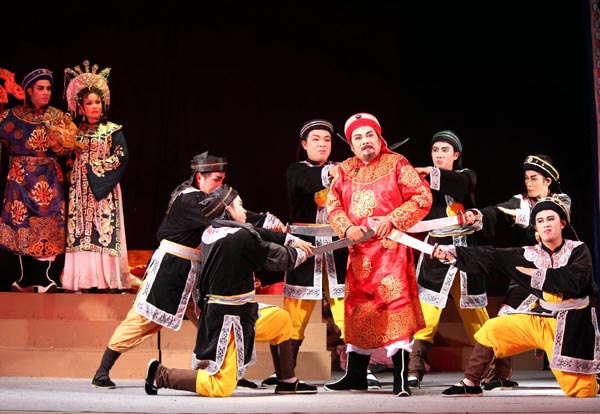 Tuong singing in Vietnam shares some similarities with Chinese opera (named "Kinh kich"), such as the simplicity of staging, the corresponding emphasis on stylized gesture and mime to convey actions or emotions as well as the use of color symbolism in respect of 'painted face' characters. However, the distinctive Vietnamese style of performance is very different from Chinese opera, not only in the way of using women to play female roles but also the sentiments in the scripts. Couplets are sung in rhyme followed by the ancient storytelling technique, known as noi loi (linking words). The instrumental ensemble is dominated by the two-stringed fiddle and percussion.
The rise and fall of tuong singing
As an embryonic form of the classical Vietnamese theatre, tuong singing was already introduced in Vietnam by Ly Nguyen Cat - a Chinese refugee who resettled permanently in Viet Nam under the reign of King Tran Du Tong (1341-1369). Subsequently, he was entrusted with the task of training young Vietnamese, thereby assisted in the further development of tuong singing as a courtly entertainment.
After a period of development under the patronage of King Tran, tuong was banished from the court of Dai Viet during the reign of King Le Thanh Tong (1460-1497). This government policy which was remained effectively at the Trinh dominated periods court (16th and 17th centuries), made a talented member of a northern tuong family known as Dao Duy Tu (1572-1634) move south to Phu Xuan (Hue) with the purpose of introducing this kind of art to an enthusiastic Nguyen court. Subsequently, he set up its popularity throughout the central and south-central provinces, which is considered today as a bastion of traditional stage arts.
The art of tuong underwent significant development under the Nguyen Kings. Its development was significantly reinforced during the reign of Minh Mang (1820-1841) who set up a special agency to deal with artistic matters such as personal commission, costumes and make-up. During this period, several high-ranking mandarins and members of the royal family set up their own tuong troupes.
Tuong reached its peak under King Tu Duc (1847-1883), who had a generous patronage for performers and decided to construct two dedicated royal theatres. The creative development of tuong during this period mainly came from poets, playwrights, stage directors and especially, theorist Dao Tan (1845-1907) who was considered as the 'founding father' of this art with more than 40 plays, including dien vu dinh, tam ma do vuong, tram huong cac, ho sinh dan and ho sinh duong, etc. He also contributed to make this kind of art became well-known by holding regular public performances throughout the central provinces of Quang Nam, Quang Ngai, Phu Yen and Binh Dinh.
During the French colonial period, like other kind of royal music, in the face of growing competition of cai luong (renovated opera) as well as the impact from Westernized trends, tuong singing was performed less and began to wane. After 1945, despite of the hard efforts of leading tuong troupes in rescuing and revolve the condition in Quy Nhon, Da Nang and Sai Gon, the audiences continued to switch in large numbers to cai luong.
However, from the establishment of National Tuong Theatre in 1959, tuong has been promoted by the government as an important intangible heritage and taught at the Ha Noi University of Theatre and Cinema as part of this institution's traditional theatre program.
Since 1950s, many of the older texts and performance techniques have been modified in order to correspond more closely with socialist ideology, while at the same time, a large number of new plays have been written to mainly focus on the struggle for national independence and reunification.
Thanks to poets and scholars' vitality and ability to provide considerable repertory of new material that make tuong singing become a national art form. In the past, this kind of art was greatly appreciated by the public and now, it was favored by the intelligentsia and the aristocracy.