Guoc Moc (Sole sisters) for the Vietnamese
Guoc Moc is footwear that imbued with symbolic meaning for Vietnamese people...
Due to Vietnam's hot and humid climate and wading days in wet rice paddies or fishing, Vietnamese people usually went barefoot. Formerly, on cold days, men and women from rural areas would don clogs made from bamboo roots when attending festivals or visiting friends. At home they wrote wooden clogs with vertical straps to protect the toes.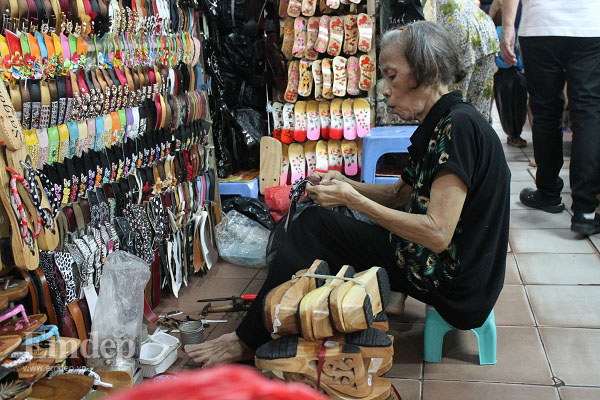 Sole sisters with long history…
Ancient Chinese books record that in the third century, the leader of a Vietnamese resistance movement, Ba Trieu wore a pair of ivory clogs. However, up until the Tran Dynasty (1225-1400AD), most Vietnamese people went barefoot and clogs were not unknown. Another popular legend tells of a pair of stone clogs passed down for generations by a family in Cao Bang, high in Vietnam's northern mountains.
In south-central Vietnam, people generally made their own clogs. They favoured thick soles with slightly turned-up tips. The traps, which attached through a hole in the front and a pair of holes on the sides, were braided from soft cloth. Because the sole was curved at the front, the knot of the front strap did not rub on the ground. The soles of women's clogs were shaped like hour-glasses, while men's clogs -known as "sampan clogs" - had straight soles. Made of white wood, Phu Yen clogs were left unpainted, while those from the central city of Hue were often painted in black and brown with a pale coloured triangle on the side of the sole. Only well-to-do men wore painted clogs. Some areas called clogs don, hence the saying "a foot with a shoe, a foot with a don" to indicate rich people who put on airs.
Up until the 1940s, young pupils at public schools in the southern province of Ben Tre began wearing clogs. Before the August Revolution in 1945, clogs produced in Hue were called "capital clogs" or guoc kinh. These clogs had soles made from coconut shells or light wood, painted white and gold with embroidered straps.
In the 1950s and 1960s, wooden clogs produced in Dong Do village in the Thanh Tri district of Hanoi and Ke Giay in Ha Tay province were taken to 12 Hang Ga street or Bach Mai street in Hanoi to be painted and sold. Poet To Huu revealed that clogs were considered extremely romantic by young girls of the time:
"Clogs long unheard
On the tree-lined streets
And spring comes, apples fall,
I remember your zither sounds"
By the 1970s, plastic clogs rivaled wooden clogs in popularity. Considered stylish and comfortable, clogs could offer other, more unusual, benefits. Travelers would sometimes bore holes in the wooden soles to hide gold or jewels.
From Ba Trieu's ivory clogs to clogs made of bamboo, wood and plastic, this humble footwear has covered a lot of ground on Vietnam. While countless Vietnamese poets have waxed lyrical about the conical hat and traditional ao dai tunic, clogs are often the subject of riddles: "Two females in colored dresses. Each carrying five males on their backs. On the way, talk and chat. And left alone at home: fed up! What is this?". Naturally, the riddles refer to a pair of clogs:
"Two parallel and loving boats
With dragon bows and phoenix sterns
Double rows of nails
I carry five boy-lovers per boat
And ten per pair.
But, let you be reproved, you ingrate!
Profiting from me, and forgetting me
What am I?"