A glance at Vietnamese clothing

Vietnam has always been praised for the spirits against aggressive war by foreigners. However, the nation is also the diversified culture cradle, one of which is the traditional custom beauty.
In feudal Vietnam, clothing was one of the most important marks of social status with strict dress codes. The traditional clothing varied from region to region and partly reflected the lifestyle of ancient people.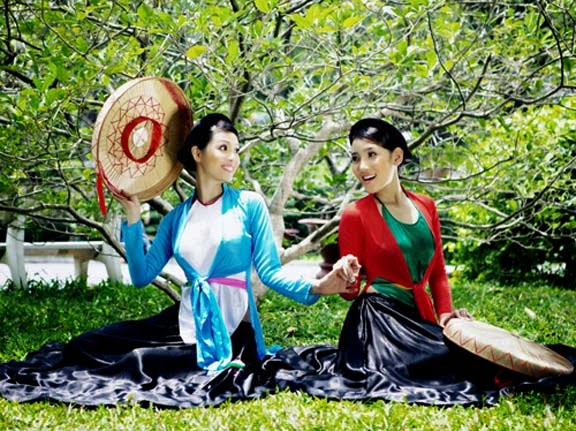 As far as you may know, there are 54 ethnic groups in Vietnam, each of which has unique and specific styles of clothing. Unlike the colorful dressing of ethnic people on the plateau, the traditional costumes of plainsman tend to be very simple and modest with different dressing styles in Northern and Southern Vietnam.
The main traditional materials come from natural fiber that appropriate for a tropical climate such as hemp, silk or cotton. The diversity and abundance of Vietnamese ethnic clothing cannot be completely dealt with in this article so we will only introduce the traditional clothing of plainsman.
In Northern Vietnam, the peasants prefer an upper garment and baggy cotton trousers that rolled up above the knees to keep from getting wet from the water and mud from the rice fields. Hence, they had a limited choice of similarly plain and simple clothes for every day use as well as being limited in the colors they were allowed to use. Therefore, men wear brown clothing with a piece of cloth wrapped around the head and their footwear consists of a pair of plain sandals. Whereas, women were in light brown-colored short shirts with long black skirts, their headgear consists of a black turban with a peak at the front. For a period, commoners were not allowed to wear clothes with dyes other than black, brown or white exception of special occasions such as festivals. For formal ceremonies, men would have two additional items, a long gown with slits on both side and a turban, usually in black or brown made of cotton or silk.
Peasants across the country also gradually came to wear silk pajama-like costumes, known as ao canh in the North and ao ba ba in the South. The ao ba ba simply consists of a pair of silk pants and a long-sleeved, button-down silk shirt. The shirt will be somewhat long and split at the sides of the waist, forming two flaps with two typically two pockets. That garment's simplicity and versatility has contributed to its popularity, as it can be worn while laboring or lounging by an overwhelming amount of the population, whether in rural or urban areas.
Ao tu than or "4-part dress" is one example of an ancient dress widely worn by commoner women from as early as the 12th century on to the early 20th century, along with the Ao Yem bodice. As Vietnam expanded Southward and slightly different cultures began to emerge between the regions, ao tu than gradually became associated specifically with Northern women. It was developed through the introduction of the Chinese Hanfu clothing and considered one of the oldest enduring Vietnamese cultural relics. Looking the picture, you will see that unlike most modern colorful ao tu than, ancient Vietnamese preferred more muted colors.
The most popular and widely-recognized Vietnamese national costume is the ao dai, which is worn nowadays mostly by women on special occasions such as weddings and funerals. In fact, there is a similarity between ao dai and the Chinese Qipao which consisting of a long gown with a slit on both sides, worn over silk pants. It is elegant in style and comfortable to wear, and likely derived in the 18th century. Nowadays, white ao dai commonly can be seen with high school girls in Vietnam or some female office workers like receptionists, secretaries, tour guides…
For a very long time, the traditional Vietnamese styles are now gradually changed along with social development. Some traditional clothes have been lost, substituted with more modern interpretations, while business shirts and trousers have replaced traditional long sleeved shirts and wide trousers. Yet, traditional costumes still exist and efforts are increasingly being made to restore traditional festivals and entertainment which incorporate traditional costumes.