Tram Chim National Park

Covering an area of 7.600 ha, Tram Chim National Park is established in 1999 and situated in Tam Nong District, Dong Thap Province. It is designed to preserve the typical submerged in-land eco-system that develops mainly in Ha Tien; the Plain of Reeds and U Minh areas.
Topography and hydrology
Tram Chim National Park is located 19 km to the east of the Mekong River, at an elevation of about 1m. The topography of the national park is flat, slopes slightly to the East. In the past, several natural streams and rivers flowed from west to east, distributing water from the Mekong River to the plain of reeds. Now, these streams and rivers have been replaced by a system of canals flowing through the national park.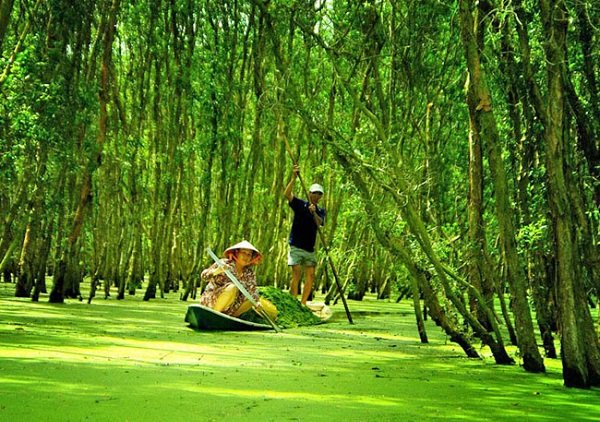 Prior to canalization, the plain of reeds was seasonally flooded with standing water for continuous periods of up to seven months per year. Since canalization, flood waters drain more rapidly and the national park is flooded for less than six months per year. Water levels in the canals begin to rise in June, at the beginning of the rainy season. Between September and December, the national park is inundated to a depth of 2 to 4 m, with a peak in October.
Since the mid-1980s, 53 km of dykes fitted with sluices have been constructed around the national park, with the aim of impounding floodwater for longer as well as reducing the lowering of the water table during the dry season. The national park is fragmented by canals into five management zones; the water level of each can be managed separately.
Biodiversity values
The vegetation of Tram Chim National Park comprises a mixture of seasonally inundated grassland, regenerating Melaleuca forest and open swamp. Melaleuca is distributed throughout the national park, both in plantations and in scattered patches in areas of grassland or open swamp. There are five widespread grassland communities at Tram Chim, of which the community dominated by Eleocharis dulcis and wild rice Oryza rufipogon is of the highest conservation significance. Tram Chim is one of the few places in the Plain of Reeds where community is likely to survive to any extent, and, therefore, one of the most important sites for the conservation of wild rice in Vietnam. The other grassland communities are dominated by Eleocharis ochrostachys, Panicum repens, Ischaemum rugosum and Vossia cuspidata.
The Park is in the lowest area of the Mekong River water logged plain submerged and in the centre of Dong Thap Muoi. With a system of swamps, grass-plots and crossing canals, the 7,612 ha Tram Chim National Park has become an ideal habitat of more than 100 vertebrates, 40 species of fish, and 147 rare and precious species of birds, especially the red-head cranes. Hence, it is also an ideal place for scientists to research into the life of migratory birds. To date, at least 88 bird species have been recorded at Tram Chim National Park. The site is famous for the population of Sarus Cranes that inhabits the site in the dry season. In 1990s, hundreds of Cranes spent the dry season here. However, due to some inappropriate development in late 1990s and early 2000s, maximum counts of cranes fell dramatically to some 82 birds in the 2005 dry season. In addition to Sarus Crane, the globally endangered Bengal Florican Houbaropsis bengalensis has also been recorded at Tram Chim National Park. The status of this secretive grassland specialist at Tram Chim is not fully known but it is likely that birds vacate the area during periods of substantial inundation in the late wet season. Local people believe that the species breeds at the site, and claim to have found both eggs and young of the species but this has yet to be confirmed. A number of other globally threatened and near-threatened bird species regularly occur at Tram Chim, including Oriental Darter Anhinga melanogaster, Lesser Adjutant Leptoptilos javanicus, Painted Stork Mycteria leucocephala and Asian Golden Weaver Ploceus hypoxanthus.
Other wetland bird species of note recorded at Tram Chim include Cotton Pygmy Goose Nettapus coromandelianus, Greater Painted-snipe Rostratula benghalensis and Pheasant-tailed Jacana Hydrophasianus chirurgus. Because of its importance for globally threatened and bird species, Tram Chim qualifies as an Important Bird Area.
Efforts to conserve.
In 1985 when red-head cranes appeared in Tram Chim National Park, scientists held a workshop in China to find out measures to preserve them and develop Tram Chim National Park in Tam Nong Natural Site into a typical cultural and ecological tourist area in Southeast Asia.
Since then, many international organizations have participated in researching into red-head cranes in Tram Chim, including the World Wildlife Fund (WWF), the International Union for the Conservation of Nature and Natural Resource (IUCN) and others.

In February 1994, Tram Chim officially became the national nature conserve zone under the Prime Minister's decision, where the State invested more than VND 4bil, the Bhrem Fund of Germany granted US$15,000 and the UK and Danish Embassy donated US$ 60,000 to the protection of the "Red-head cranes' house" and the improvement of Tram Chim's buffer zone.
In 1995, ICF wanted to conduct surveys on the breeding sites of red-head cranes and in March 1998, scientists began putting electronic tracking rings worth US$10,000 on cranes to observe their migration and reproduction. The activity was funded by the Japanese Government with the participation of American, Japanese and Vietnamese scientists. The signals received from red-head cranes provide good information for scientists to research into the red-head cranes' migration and reproduction.
Leaving out this park is an actual pity!
Tram Chim is 40 km by road from Cao Lanh town in Dong Thap province. Within the national park, you can hire boats to reach good birding sites. From January to May each year, when sky is clear, visitors will see from the horizon many black spot coming. It is crane flock returning after months of emigrating to evade flood. This is also the season for photographing cranes in the dawn and sunset
Tram Chim National Park is one of the best developed and most well-known sites for ecotourism in the Mekong Delta. The national park already has basic tourist facilities, and previously received many visitors. There are some small guesthouses in Tam Nong town with basic facilities.
Tram Chim National Park, with natural history of collective ecology of geomorphology, hydrography and underwater creatures, is an ideal rendezvous place of tourists from all over the world.