Can Tho, a mysterious, charming lady-like land...
"Can Tho with white rice and clear water
All who comes would never wish to leave"
The Vietnamese folk verse prides the beauty of Can Tho, which is home to a mild people, confident, open-minded and friendly; all contributing to make this area become attractive for tourist activities inland and on the water...
Can Tho is located in the center of the Mekong Delta. It is contiguous to 5 provinces: An Giang on the north, Dong Thap on the north-east, Hau Giang on the south, Kien Giang on the west, and Vinh Long on the east. Cantho has a complex of rivers and canals such as Hau River and Can Tho River, Thot Not and O Mon canals, etc. Among them, Hau River is considered a benefactor of this region, since yearly floods deposit large quantities of alluvia to the rice fields. Thank to that Can Tho becomes "the green lungs of the Mekong Delta". The climate is harmonized with few of storms. It is hot, humid all year. Rainy season lasts from May to November, and dry season lasts from December to April. The annual average temperature is 27ºC.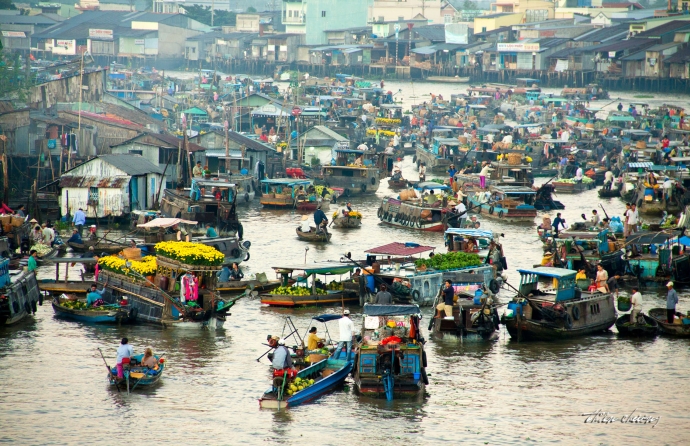 Can Tho, which used to be called Tay Do (the west capital) is a big surprise to tourists with its landscape, its people and its unique products of the Cuu Long Delta. This is the center of where the most rice is exported from Vietnam, with its enormous fields of rice everywhere. Can Tho is seen by most as a beautiful city, the most populous and rich in the South, with spectacular waterways and landscapes. Can Tho has a variety of attractions for many people, including the waterways, fish and shrimp, tangled canals, and luxuriant orchards.
Favourite places to go...
Can Tho has simple, poetic beauty with well-off villages under shade of coconut trees. It is wonderful to take a boat trip along the riverbanks on fine weather days. On the east bank of Hau River is Ninh Kieu Quay, which is well known for its beautiful location:
"Can Tho has Ninh Kieu Quay,
A beautiful river and lovely beauties"
This is extracted from a poem that describes the pride of Can Tho people about their beautiful quay. If you come to Can Tho, you should not miss this place because of its romance and beauty. Ninh Kieu Quay has become famous with the peaceful beauty of the fishing village on the other side of the river, and this side is crowded with boats, there are rows of willow which stream near the riverbank, running the entire length. This is the place where fashionable and walthy young people take walks and admire the views. From here the boats go everywhere in the whole country, and one should definitely drop by this quay when they come here.
From Ninh Kieu Quay, the entangled canal will take you to the boisterous floating market in Can Tho and Cai Rang. The special forms of tours in Can Tho are ecological and orchard ones. On an ecological tour, you should not miss a trip to see Cai Rang flaoting market. It is a unique trading activity of Cuu Long Delta inhabitants. The market is held on the rivers and people who want to buy a certain product can find it by seeing "beo" (a bamboo pole fixed at the bow of a boat to hang the products the boat owner wants to sell such as oranges, plums, mangos and so on).
Along Hau Giang River, in the silence, you will be entertained by some soothing and traditional music performed by Tay Do young girls. The artists are laborors; they work on field in day and sing at night to satisfy the love of their homeland songs. Moreover, there are Au Islet, Khuong Islet, Tan Loc Islet, which are being developed into attractive eco-tourist sites. These are places where you can enjoy the magnificent views of the rural areas as well as have a rest in the cool quiet and peaceful atmosphere of the verdant orchards. The orchard tours, such as going to My Khanh Tourist Garden and Bang Lang Stork Garden, have a slight difference from the ecological tours because you can pick fruit from trees yourself and try living a day as a Cuu Long farmer with the local people. The green tourism area lays in centre of the rice field and is home to over 300 thousand stork parents. The most important feature of these tours is that you can see how some traditional dishes of the Cuu Long Delta people are cooked and if you like, you can take part in making them and then eat the food you have just prepared.
When coming to Can Tho, you should not forget to visit Binh Thuy Ancient House, the rare and perfect house preserved with the specific character of Cuu Long Delta in the past century. The house connects with a garden, quite wide but not very long, in the front yard; lain with Chinese bricks and has several rock-gardens, potted plants, and a three-door temple gate. The house was not built by cement but of duoc glue, including all joints in the system of rafters, without a single nail. All this had been made by craftsman who used valuable woods which were red-lacquered and gilded or encrusted with nacre, fine carvings depicting the water activities, trees, and fruits of the Southwest.
The other places you should visit are Ong Pagoda and Can Tho Ancient Market, Binh Thuy Temple, Nam Nha Pagoda. Through a trip to these places you can understand more about the culture, the history as well as the lifestyles of Can Tho people. Can Tho has not only attractive tourist destinations but also a good system of tourists services such as hotels, restaurants, gift shops, etc which can help you enjoy your stay in Can Tho.
For many such interesting places and things, why don't you come and visit Can Tho - the land of honest people, friendly smiles, green fields, laden-fruit orchards and romantic rivers.