The immense pride of Ninh Binh's inhabitants
With royal ruins, limestone mountains, caves and crystal rivers, Ninh Binh Province has nearly everything a visitor could want. And Trang An Grottoes Eco-tourism Complex is a potential destination...
Covering an area of 1,961 hectares, Trang An Eco-tourism Complex belongs to the mass of Attraction Relic of Hoa Lu Ancient Capital and includes three main functional subdivisions: center area for welcoming visitors and festival organization; tourist area of Grottoes with 48 grottoes and caves together 31 large and small valleys; and hallowed cultural area of Bai Dinh Pagoda. The whole complex has 47 historical relics and nearly 100 grottoes stretching around 20km South – North.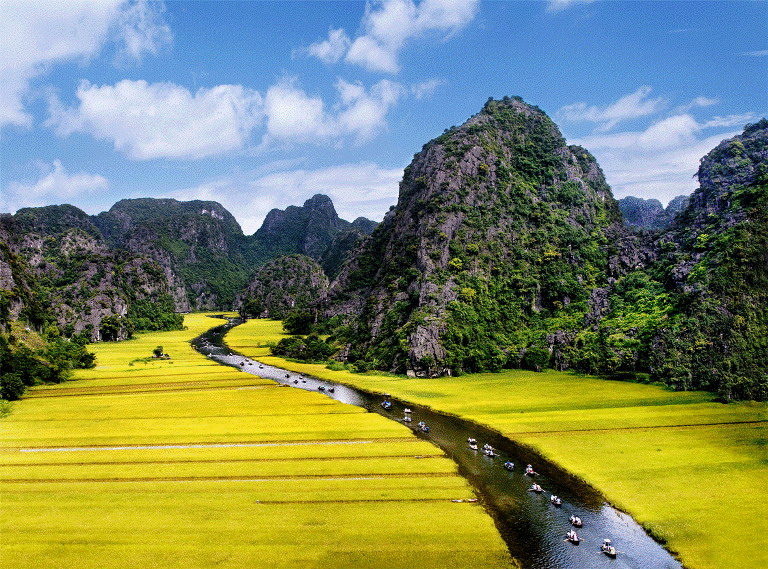 Slotted for upcoming development, the Trang An Grottoes Eco-tourism Complex consists of limestone mountain ranges, valleys and rivers which blend harmoniously together in a wash of green. All these factors make a fanciful and romantic atmostphere. Located 4km southwest of the Hoa Lu old capital in Truong Yen Commune, the destination is made more alluring by the route there. Tourists can begin their visit at King Dinh Tien Hoang and King Le Dai Hanh temples before boarding a row boat down the Sao Khe river to Xuyen Thuy grotto, past rice fields and villages.
Gorgeous grottoes...
Upon reaching the complex, you will encounter a system of unique grottoes, some of the more noteworthy being Ba Giot (Three Drops), Dia Linh (Holy Land) and May (Cloud). But for those with different interests, there are numerous historical relics related to architecture, economics, social and military history from the Dinh, Le and Ly dynasties. There are many valleys like Tran Temple valley, May valley, Khong Valley, Nau Ruou Valley (Wine brewing valley).
In archealogical excavations, people discovered valuable relics like bows, dishes, pots, bricks, tiles and ancient money. Moreover, Trang An Grottoes Area also has old architectural constructions like Vuc Vong temple, Khong residence. The Beauty of New Long trans-water grottoes will surprise tourists. Trang An Grottoes Area is considered as a great rock – garden locating in a vast lake. It is said that, this is the place where Dinh Bo Linh trained his navy soldiers. All the scenes seem to be mingled with which create a particular and interesting space awaking a wide range of mythical imagination.
Trang An is the key tourism zone of Ninh Binh which is still under construction and investment in infrastructure. When the project is completed and opened by the year 2010, Trang An will become a national and international tourism complex of Vietnam with all tourism types such as historical tour, cultural tour, eco tour, festival tour, religious tour, grottoe discovery tour, adventure tour (rock climbing, trekking), entertainment tour, vacation, MICE tour, kayak, historical - cultural research and so on.
A boat trip along the winding, olive river lined with trees and rare orchids helps to understand the immense pride of the area's inhabitants. Green trees, a crystal clear river, fresh air, magical caves and sweeping mountains rich with history... all will charm you at first glance. Come here, and you would never wish to leave...