Tam Dao National Park, a unique tourist site...
Situated on the northern fringe of the Red River Delta, Tam Dao

National Park

forms a unique ecological island, combining dense tropical rainforests with species from the tropical forests of Southeast Asia, the temperate forests of southern China and the alpine forests of the eastern Himalayas.
Rising steeply from densely populated lowlands to a peak of 1529m above sea‑level, the forests support a large variety of ecosystems and micro‑habitats of high biodiversity, varying with altitude, aspect and the degree of human disturbance. In its original state, Tam Dao had one of the highest levels of species richness of any tropical forest with about 1,300 plant and 1,200 animal species, many of which are rare to Tam Dao or northern Vietnam. Therefore, located only about 70km northwest of Hanoi, rather close to the urban area, Tam Dao National Park is one of the last natural areas which has not been transformed into agricultural land.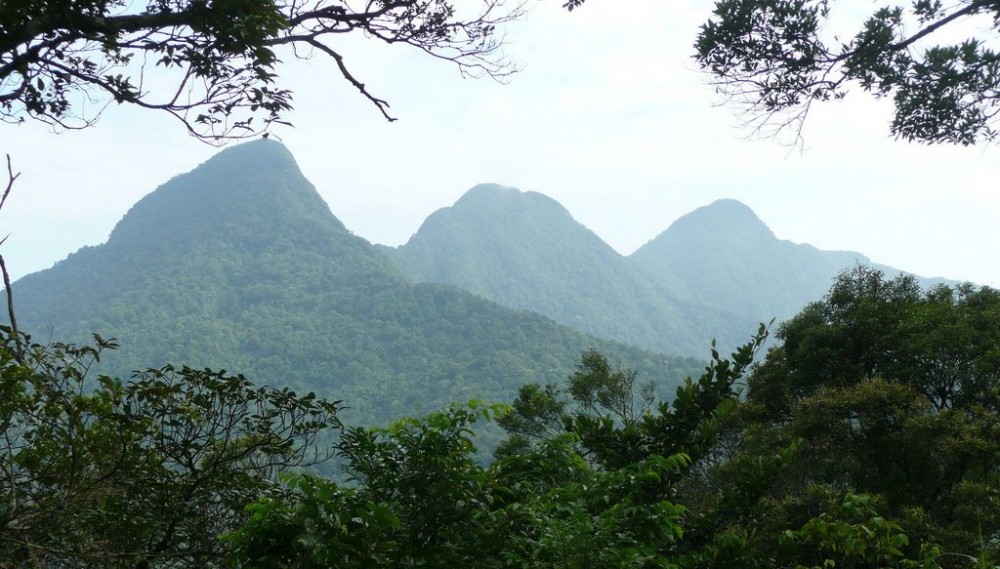 Natural condition
Tam Dao National Park is based in the Tam Dao range, which is one of the terminal spurs of a larger mountainous area. It runs 80 km from north west to south east, and has more than 20 peaks with altitudes of over 1000m. The highest summit is Tam Dao North with an altitude of 1592 m. Three other peaks with beautiful scenery are Thien Thi at 1375 m, Thach Ban at 1388 m and Phu Nghia at 1300 m. Sharp peaks with sloping sides and numerous, deep partitions are characteristic of the topology.
The boundary of the national park is located at an altitude of 100 m around the Tam Dao range. There is a larger buffer zone (which has area of approximately 535 km2) which surrounds the national park which has an altitude below 100 m. Seventy per cent of the area of the park is covered by natural and artificial forest. The natural forest is about 220 km2 and the human altered forest is about 30 km2.
Due to the tall mountainous range that splits the area into two parts, the national park's climatic condition is divided into two areas with different rainfalls. This difference and some other factors such as the effect of human activity divide the park into some smaller climatic zones which increase the bio-diversity in the park.
Flora
Tam Dao National Park is covered by a rich flora consisting of 490 species the high classes belonging to 344 genera and 130 families. Forests abound with rare and valuable flora such as: "Sam bong' "Po mu" fokienia hodginsii) "kim giao" (polocarpus fleuryi) 'Lat hoa' (chukrasia tabularis) "Lim xanh" (Erythrophlocum fordii) "Do quyen" (Rhoclodentron simmi) "Sen mat" (Madhuca pasquieri) "Thong tre" (Podocarpus nerlifolius) (all are valuable wood).
Out of over 2000 plant species, 904 species are considered useful to humans. They have been classified into eight groups. There are 42 species endemic to Tam Dao National Park and also 64 other species considered rare including Dendrobium daoensis, Camellia longicaudata, Camellia petelotii, Asarum petelotii, Molas tamdaoensis, and Paris delavayi.
Fauna
The National Park is the habitat of diversified fauna, with 281 species 80 families and 26 orders, belonging to 4 main classes: animals birds reptiles and amphibious ones including many rare and valuable species which are high commercial value and at the same time of important scientific research significance: white-cheeked black monkey, snake-headed fish, silver pheasant, wood grouses, etc...
Eleven of these species are endemic to Tam Dao National Park including the snake species Amphiesma angeli and Boiga multitempolaris, the amphibian Paramerotriton deloustali and eight species of insects; 22 species are endemic to North Vietnam including nine bird species, four reptiles, three amphibians and six species of insect; six are endemic to Vietnam (five bird species and one species of amphibian).
Moreover, visiting the park, you have a chance to view Tam Dao Town which was established at the beginning of the 20th century. The town is nestled in a valley covering only 3 km2. There now remain some villas and palaces built by French colonists. It has Thac Bac (The Silver Fall), Rung Rinh Peak and Tam Dao 2, a remnant of another resort built many years ago. Another tourist location is Tay Thien site. It includes Tay Thien Quoc Mau Temple (literally The "Temple of East Heaven National Mother") and many pagodas. Along with Thien Vien Truc Lam (literally: "Dhyana Palace in Bamboo Forest") in Da Lat and Yen Tu, Thien Vien Truc Lam Tay Thien is a center of Vietnamese Buddhism.
Tam Dao National Park is really a promising area, a center for forest ecological research on rare and valuable flora and fauna. The park is ready to welcome domestic and international visitors.