Ninh Binh province – a huge tourism potential
Where in Vietnam can you find a convergence of classical, historical values and captivating natural landscape? It is Ninh Binh province, an ideal eco-spot of tourism!
Briefings
Located as far as 100 kilometers south of Ha Noi is Ninh Binh province, the south extreme of the Red River delta. Inside the province is the grandiose Tam Diep Mountain, connecting the North and the South. The province stretches from the Northwest mountainous area to the delta, thus being calleda half mountain half plain area. In particular, Ninh Binh contains 3 main kinds of topography: limestone mountains with fascinating caves & grottos, the delta raised by Red River Silt, and a coastline with the length of 18 kilometers, enlarging the province area by 100m2 per year.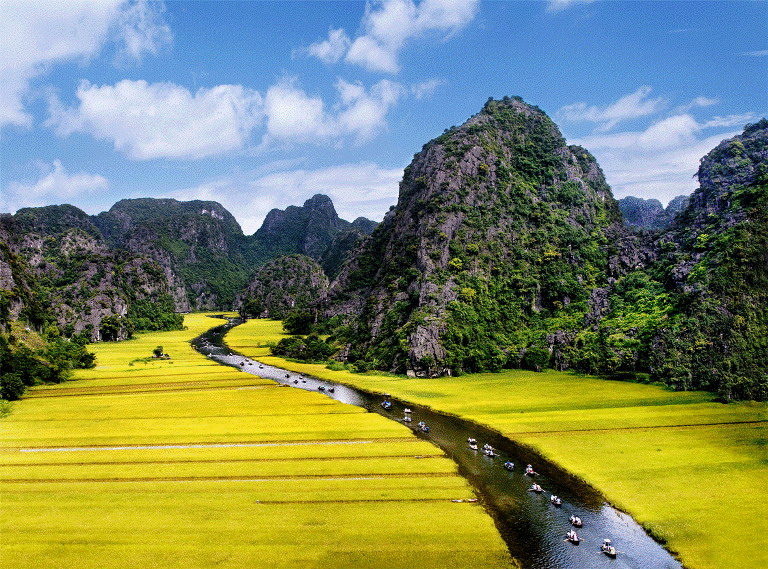 Besides limestone caves and grottos, Ninh Binh is also popular for the first imperial capital of Vietnam, from 968 to 1010 under Dinh, Le and Ly dynasties, which has resulted in its cultural tourism potential. Also,Tam Coc - Bich Dong and Cuc Phuong National Park within the province are desirable destinations for tourists. Would you like to visit Ninh Binh? Please be willing to join the following trip;
Hoa Lu, the first imperial capital of Vietnam
The very first meaningful stop-over in Ninh Binh should be Hoa Lu, the capital of Vietnam from 968 until 1010. Before the year 968, the nation was just a district of China. As time went by, several fightings for independence have occurred, yet none was of a long success until Dinh Bo Linh's troops rising. In 968, Dinh Bo Linh defeated 12 lords of the district (former Vietnam) and proclaimed to be Emperor. He was the first King of Dinh dynasty (King Dinh Tien Hoang), and named the country Dai Co Viet. Then he set up Hoa Lu, his home country, as the capital of Dai Co Viet. His meaningful success was a great landmark of Vietnam as transferring from a district of China into an truly independent nation.
Dinh dynasty lasted 12 years. Then Le Hoan started 29 years of Le dynasty. In 1009, when Ly Cong Uan became the King, he found an area which had an excellent site and topography, therefore decided to move the capital from Hoa Lu to Dai La citadel, former Hanoi. In 1910, Hoa Lu ended its honored role of being the Nation's Capital after 42 years. Today, tourists elsewhere come to Hoa Lu for the purpose of involving themselves in a historical and mysterious world of an ancient capital with miraculous palace, mighty citadel, hiding in the grandiose mountain ranges and gentle Hoang Long rivers. This makes a magnificient fairy scenery!
King Dinh Tien Hoang's Temple
It's now time to pay a visit to the famous King of Vietnam's temple – King Dinh Tien Hoang's. The temple is located in Truong Yen village, Truong Yen commune, Hoa Lu town, in a garden of 5 hectares wide. It faces the East, and stands in front of Ma Yen Mount, where King Dinh Tien Hoang's tomb was located.
The temple was built in the 17th century, with a special architecture, the interior of which had an "I letter" shape, surrounded by a square land. Now you are standing at the 3-class mid-noon gate. You can go on to the next one, seeing a dragon bed and getting the second gate. Passing through one more gate and walking along the holy way will lead to the main house. In the middle of the house is one more stone dragon-bed, which is 1.8m long and 1.4m wide. Looking at the bed surface you can easily find sculptured dragon, shrimps, fishes, rats images which are of deep delicateness and skill.
This main house has 3 parts. The first one is the worshipping place with 5 rooms. The second is an incense burning room where they worshiped 4 important mandarins under Dinh dynasty. The third main part, the most important one, is separated to the second by a high door. Here you can witness there worshipping King Dinh Tien Hoang and his three sons.
You may have to admit that the temple is an original architectural work of art full of folk sculptures! It attracts tourists for so many valuable relics hidden in thick bricks, tilts, Buddhist prayer-book pillars, and more importantly its meaningful history of the first ancient capital of Vietnam.
Nearby you can find the Tomb of King Dinh Tien Hoang, which was situated on Ma Yen Mount, in front of his Temple. "Ma yen" means "back of a horse", as seen from a far distance, it has the shape of a back of a horse. The tomb is in the sagging down post of the horse's back. To reach up to the tomb, visitors must pass 150 rock steps. The tomb was built in 1840, under Ming Mang King reign.
Phat Diem Cathedral – symbol of a rich religious life
If you are a Catholic, a famous Cathedral for visiting in Ninh Binh is Phat Diem Cathedral, which was built between 1875 and 1899 with four roofs and six sets of iron wooden pillars, and consists of a network of ponds, lakes, churches, and artificial caves. On both sides of the church are four smaller churches of different styles. In the area, the rice paddies are peppered with stone churches. But, unlike these structures, as built by Europeans and resembling typical churches of the era, Phat Diem Cathedral was designed by a Vietnamese priest, known as Father Sau. Father Sau rallied the local population to build the cathedral, five side chapels, three artificial grottoes, an artificial lake and a bell tower. Phat Diem Cathedral seems to have changed very little since Graham Greene described its gigantic pillars formed out of single trees and the scarlet lacquer work of the altar. Indeed, with its multi tiered, curling roofs and its 48 lime-wood columns - (the largest of which weigh seven tones), Phat Diem is a far cry from a European cathedral. Stone relief angels overlook carved dragons and the cathedral's two-tone bell is accompanied by a giant brass gong.
Whoever spending a few minutes inside the Cathedral, particularly the Stone Church, can easily feel the specially cool atmosphere and a classical religious space!
Tam Coc – Bich Dong - "South second nicest grotto"
Tam Coc - Bich Dong is called "A terrestrial Ha Long Bay", or the "South second nicest grotto" (to Huong Tich) for its poetic and inspirational natural scenery of beauty. It is a grandiose comlex of Bich Dong pagoda and Tam Coc grotto. King Le Canh Hung ever said: "This is "the South second nicest grotto of Vietnam, after the Huong Tich Grotto in Ha Tay province". Its pristine natural beauty together with a simple but nice countryside landscape, and a sacred spiritual life have converged into a fascinating and attractive Tam Coc-Bich Dong to numerous tourists.
These days, more and more people in the world have been coming here in various types of tours: ecological tours, culture, history, festival tours (such as Thai Vi Temple, Bich Dong pagoda, Linh Coc pagoda, Thien Huong Cave, Fairy Cave.. festivals). Noone could deny that Tam Coc-Bich Dong has become a legend of rivers and mountains, a green, pure, and safe destination for every traveller.
Cuc Phuong National Park
Ninh Binh boasts Cuc Phuong National Park, the largest & first national park of Vietnam, and one of the most important sites for biodiversity within the country. It is home to hundreds of species of flora and fauna. Inhabitants of the park include 97 species of mammals, most notable are the endangered langurs; 300 species of birds; 36 reptilian species; 17 species of amphibians; 11 species of fish; 2,000 species of vascular plants, and thousands of species of insects, most of whom do not bite. A number of species in the park are listed on Vietnam Red Book of endangered species.
Exploration of Cuc Phuong's many limestone caves makes a rewarding excursion. The cave' include Thang Khuyet Cave, Con Moong Cave, Pho Ma Cave, and Nguoi Xua Cave and the Cave of Prehistoric Man (Dong Nguoi Xua). The Botanical Garden located near the park's headquarters is good place to take a stroll and get an introduction to the region's flora. Early in the morning you can hear birds singing, accompanied by perhaps a gibbon or two. The Endangered Primate Rescue Center is an important rehabilitation center for Vietnam's critically endangered and majestic primates. Langurs, loris, and gibbon species are housed at the center and include the critically endangered Delacour's Langur, Golden-Headed Langur, Tonkin Snub-Nosed Monkey and Black Crested Gibbon.
Tourists coming to Ninh Binh are mostly eager for paying a visit to Cuc Phuong for exploring an pure ecological space of the locality!
For centuries, the province has undergone thousands of changes in terms of nature and society, yet the ancient historical relics, the natural painting of miraculous caves, grottos covered with karst, shiny stalactites, & stalacmites, and beautiful rivers still remain pristine and captivating!