Bac Ha Market, feast for the eyes!
Being a minority ethnic people market, the town of Bac Ha is famous for its lucotravel.com which is a trading centre and meeting place for couples, friends, and relatives every Sunday.
Every Sunday, Bac Ha hosts the biggest fair near the mountainous highlands and the Chinese border. It is the largest and most colourful market in the area and attracts throngs of villagers from the surrounding hill tribes. Some walk several hours for the weekly opportunity to trade and barter food, animals, clothes and household goods. 80km from Sapa Bac Ha Market is not only the place for buying and selling, but also a place for cultural and sentiment exchanging. On the market days, right from the early morning, all paths and mountain roads are full of people and horses pouring to the market. People usually sit in groups around a soup pan ("thang co") eating and chatting.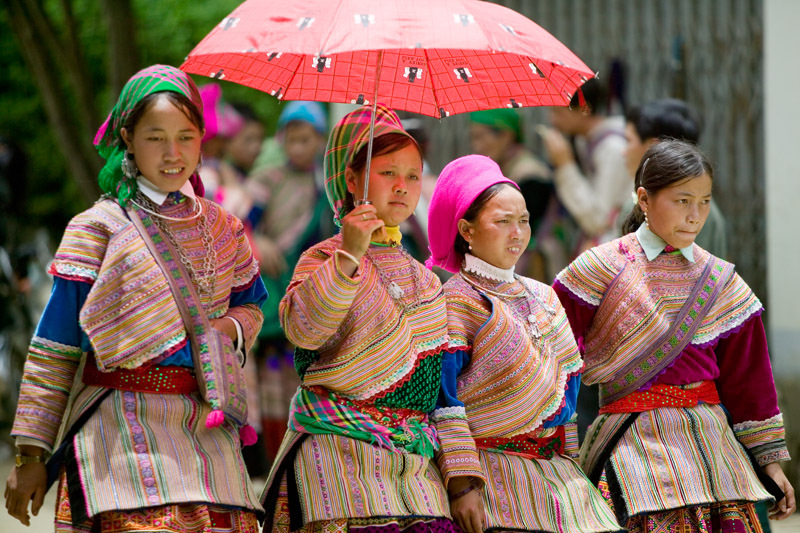 Many different ethnice groups such as Flower H'mong, Phu La, Black Dao, Tay and Nung minorities gather to buy and sell local products that cannot be found elsewhere. The market was very crowded, local products for sale or barter are carried on horseback. Besides the usual items like pigs, cows, chickens, and ducks, Bac Ha Market sold dogs. As dogs were available as cuts of meat, they were also available live, right next to the live pigs, chickens, and other livestock. There was a brisk trade at the market for everything from hand-embroidered skirts to all manner of 4-legged animals. The "fresh" meat section is not for the faint of heart and might steer more than a few visitors in the direction of strict vegetarianism.
Though tourists were not in short supply, they were not the focus. Most locals paid little attention to them, rather choosing to focus on their business and the short Sunday-sized window of opportunity. Rounding the corner and pungent fumes of alcohol accosted your senses of smell, from corn whiskey, a Bac Ha specialty. The potent moonshine is decanted by vendors from large white plastic jugs to used bottled water containers. If you doubt the ability of a vendor's hooch to peel paint or light your senses on fire, you can try a shot for free.
At the fair, adventurous gastronomes can try "thang co" blood porridge, a popular dish of the H'Mong and other local people. The Flower H'mong minority is the most common here, and their colourful dresses makes is a beautiful sight.
In conclusion, I would like to mention here the comment by Mr. Ikuyo, a tourist from Tokyo (Japan): "The trip to Bac Ha Market was amazing! On the way, the scenery was beautiful and the local people were so friendly. I will come back again!". Let's once visit Bac Ha Market and you will be able to experience a wide range of different colorful ethnic minorities and more interesting things of life in the mountains...