Romantic Hue and great experience on Tam Giang Lagoon

Tam Giang Lagoon in Hue is truly beautiful at sunset when golden water is sparkling in along with a maze shrimp farming fields of all shapes and sizes that all fascinate travelers.
Tam Giang Lagoon is located at the merge of three big rivers including O Lau, Huong and Bo Rivers. The region directly or indirectly provides the sufficient living conditions to about 300,000 inhabitants of 326 villages in 31 communes around.
Recognized as the richest source of flora and fauna in South East Asia, Tam Giang Lagoon in ancient Hue is an amazing place that is rarely discovered by tourists. Accordingly, right from the dock, tourists will be in awe with a pretty crowded, hustle and bustle market trading a variety of different commodities, especially when evening comes and sunset purple light is shining on the wooden boats full of fresh seafood including shrimp, fish, squid, etc. Therefore on the journey to explore Tam Giang Lagoon, there will be nothing more interesting than enjoying those local specialties harvested by hard-working fishermen from the particular mixture of sea water and river water.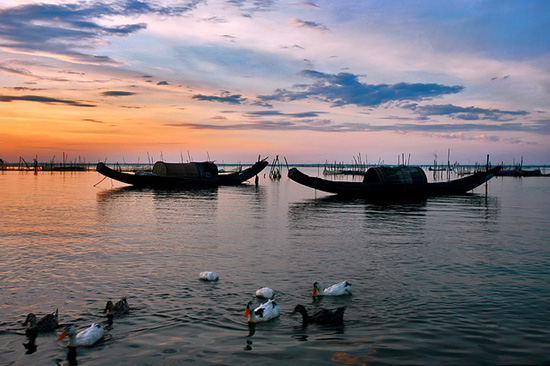 This vast Tam Giang Lagoon from the old day was known once known as an impoverished, stagnant region. It was not easy to reach out the land as well but now visitors can easily come here to watch welcome the dawn and the sunset whose peace can't find anywhere else in the country.
How beautiful it is when the horizon stretches halfway across, glowing silvery brilliant sunlight on the water surface. Even in the bleak landscape of a rainy afternoon, Tam Giang still shows up its wild beauty when the ultimate sunbeam of the day suddenly rose up, cutting diagonally through the immense tranquil space, that all bring the indescribable emotions.